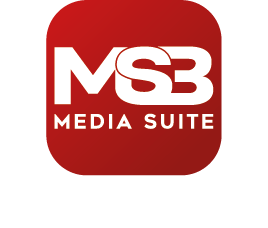 MSB Media Suite
Use Cases
Sports – TV and Live-Stream Productions
Use MSB Media Suite to show match graphics to your audience. From tiny score bugs to full-size score boards, live stats, event graphics ("Touchdown!"), you can do it all with MSB Media Suite.
Sports – Stadium Presentation
Every sports, every venue, has different requirements for the graphics shown to the audience. Whether you need a small score display in a corner of the screen, or a large frame around the live picture on the jumbotron – no problem. Play back videos or still images (slides) at any time.
Play back media and images
Play media content – video, images, slides, audio – quickly and easily. Create playlists of content that needs to be played out in sequence. No worries about playing 4:3 content in a 16:9 production; just choose between automatic letterboxing and zooming.
Supports Elgato Stream Deck
MSB Media Suite contains a native plugin for Elgato Stream Deck™. Control your scoreboard, captions and media playback directly from your Stream Deck.
Want to know more?