Hey there. Welcome to my personal website.
Wie versprochen ist hier mein Versuch, Schieberegister zu erklären. Ich werde am Beispiel des M74HC595 8-bit shift register erläutern, wie sie funktionieren – weil dies der Typ ist, den ich üblicherweise verwende. Man bekommt diese bei vielen Händlern für ein paar Cent; hier in Deutsch[...]
For an upcoming project - a playclock for American Football - I did some experiments with a 74HC595 shift register IC. I made a little demo video showing the shift register at work. Enjoy.
P.S. I'll do a series of blog posts here about the project soon, showing the progress and explaining how thi[...]
The most improbable things are sometimes true. This is one of them.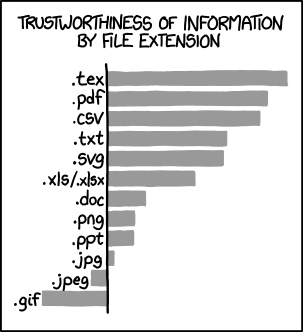 By xkcd.com. One of my favorite sites.
Tags: xkcd